COACHING  FOR  RESULTS!
MEET YOUR BEST SELF IN OUR TRAININGS.
Pursue #coaching #excellence by enrolling in our prestigious ICF ACTP accredited online all-inclusive program
Want to develop your skills? A new career? Widen your self awareness?
◉▶︎POSITIVITY Global is focusing on accelerated learning and high standards by introducing multiple focal points, cross-pollination and our groundbreaking combo of learning modalities.
POSITIVITY Global Five Satellites™️ will
⌘ support, 
⌘ catalyse and 
⌘ catapult your mastery.
◉▶︎Enroll and get access to your tutor, your trainer, your mentor, your coach and your supervisor.
🎓Experience igniting participatory learning methods. 
▶︎Theory: The educational treasure of asynchronous learning is here! Video lectures, demo videos with applications of tools and models, all the educational manuals and a plethora of articles are waiting for you!
▶︎Reflection: The active, persistent and careful examination of a belief or supposed form of knowledge, the reasons that support this knowledge and the further conclusions to which this knowledge leads.
▶︎Experience: The process of experiencing an event and the ability or knowledge gained by doing something.
▶︎Study: Carefully designed assignments transform experience into knowledge and understanding into skill.
▶︎Completion: The graduation framework creates opportunities for learning, distinction, visibility and promotion.
🎖Accreditation
The program is accredited through the International Coaching Federation (ICF) as ACTP for 160 hours.
This satisfies ICF training requirements for the PCC credential.
Who Should Attend?
This programme is appropriate for:
• Managers/ Directors and leaders who are, or want to be significantly involved in organizational coaching and mentoring.
• Individuals wishing to take the first steps into independent coaching practice.
• Executives who provide in‐house coaching in their organization.
Our method: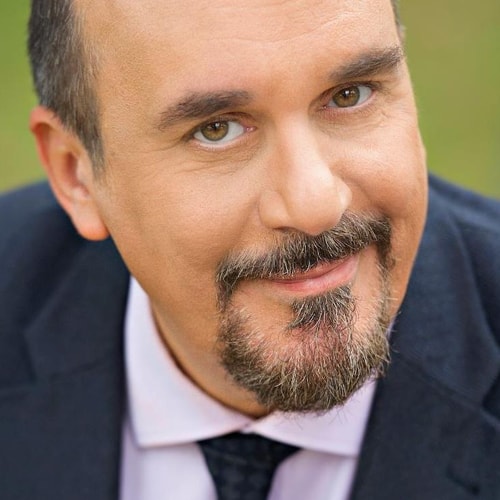 Angelos Derlopas
Angelos is an Executive & Team coach with three decades of business experience. He has postgraduate studies in Business Administration (MBA) and Psychology (MSc), over 6,000 hours of experience in coaching and coaching training, has published articles and books in Greece and abroad and has presented at coaching conferences in Europe, N.America and Asia. He is passionate about coaching and all things that helps us become more creative, more purposeful and live more authentic lives. He loves meeting new people and have conversations that will value diversity as an invitation for exploration of different mindsets and the richness of cultures. He has coached with clients in more than 100 countries.
Liz Hall
Liz Hall is Editor & Co-owner of Coaching at Work magazine (www.coaching-at-work.com); author of Mindful Coaching (Kogan Page, 2013), author/editor of Coaching in Times of Crisis & Transformation (Kogan Page, 2015), and chapter contributor to books including Professional Coaching (Springer, 2018); Mindfulness in Organisations (Cambridge University Press, 2015), and Mastery in Coaching (Association for Coaching/Kogan Page, 2014). Liz is a co-founder of the International Summit for Mindfulness & Compassion at Work, which has convened twice in Madrid, in 2017 and 2018. She speaks widely on coaching and mindfulness. Liz is passionate about mindfulness and compassion can heal and transform, helping us lead authentic, courageous and ethical lives.
We partner in learning and development with those who choose to be the reason we make the difference