Positivity Coaching is a boutique consultancy, specialised in developing Communities of Practice through continuous learning, coaching, mentoring and coaching supervision. We operate through a global network of partners, trainer-consultants, and mentors, all of whom have been trained and accredited to provide a consistent, high quality and reliable service in this specialist area. Heavily supported by both fundamental and best practice research, our products and services are continuously updated, accredited and awarded.🇬🇷🇬🇧🇮🇹🇺🇸🇨🇦🇦🇹🇮🇳🇭🇰🇪🇸
Positivity Coaching is a member of the International Coaching Federation and subscribes to the Code of Ethics.
Our service portfolio: 
Designing and delivering accredited coach training programmes
Designing and implementing corporate coaching/ mentoring programmes, selection, matching and training
Coaching/ Mentoring online platform (selection, testing, matching and hosting the dyads)
Team Coaching (assessing and developing team's impact in business)
Supervision of Internal Coaches
Mentoring Coaches towards their Credentialing
Coach Assessment Centres
Angelos Derlopas, MCC
Director of Education
Angelos is a Master Certified Coach (MCC by ICF) and an Accredited Coach Supervisor (ESIA by EMCC) with three decades of business experience, 20,000 hours coaching experience, clients in 100 countries, conference presenter in 3 continents. Academic studies include an MBA and a MSc in Psychology. Book author and editor. Subject matter-expert in ICF Global for both the Core Coaching Competencies and the Team Coaching Competencies. Husband, father and philanthropist. Location: Athens, Greece 🇬🇷
Jennifer Star, MCC
Mentor Coach, Trainer
Jennifer has been coaching, training and mentor coaching for over twenty years, achieving her Master Certified Coach (MCC) credential in 2010. Jennifer has been a successful entrepreneur for over 30 years. She weaves creativity, humor, spirituality and imagination into all aspects of her work with others, to open up new pathways to awareness and raise consciousness on the planet. Though she is a gypsy at heart and travels extensively, her home base is in Sisters, Oregon, where she enjoys nature, hiking, photography and painting. Location: Oregon, United States 🇺🇸
Luciano Boccucci, MCC
Supervisor, Mentor Coach
Luciano has a solid history of directing talent acquisition function and leading business-driven initiatives and global strategic plans. He is an expert in improving company climate and culture by identifying gaps and overcoming the barriers. He develops and employs current business practices that attract and retain high-potential talent and that facilitate the flourishing of a coaching culture. He is a Master Certified Coach credentialed through ICF and a Coach Supervisor accredited through CSA. Location: Rome, Italy. 🇮🇹
Stephanie Lam, MCC
Mentor Coach, Supervisor
Stephanie is a first Chinese to receive Master Certified Coach (MCC) accredited by ICF and Master Practitioner (MP) from European Mentoring & Coaching Council. She has coached and facilitated over 4,500 hours with 36 nationalities and 10 industries including Chemical, Finance, FMCG, Health Care, Luxury Retail, Oil & Energy, Professional Services, Telecom, Technology and Universities. She is also a qualified Coaching Supervisor, Mentor Coach, ICF & EMCC Assessor and a Coach Trainer. Location: Alberta, Canada. 🇨🇦🇭🇰
Sunaina Sharma, MCC
JEDI Trainer & Mentor Coach
Sunaina Sharma is an award-winning scientist and an academician, a practicing lawyer, a senior administrator, board chair and a master certified coach with over three decades of experience in her toolbox. Catalyzing organizational effectiveness, strategy, leadership & engagement through inclusion, innovation, and meaningful growth in academia, healthcare, public, private, and not-for-profit sectors is in her DNA. But really, her aha moment is when she inspires her clients to fall in love with their lives! Location: British Columbia, Canada 🇨🇦🇮🇳
Maureen Purcell, PCC
Trainer, Mentor Coach
Maureen is a PCC International Coaching Federation (ICF) life coach and mentor coach who is passionate about the role of coaching in the workplace and in life. She holds her coaching space with whole-heartedness and presence for those she works with to bring out their best in work and life. She loves playing with intuition to inspire others to new and greater possibilities in their life journeys. Location: Kansas, United States 🇺🇸
Stella Gamvrelli, PCC
Trainer, Tutor
Stella has been offering since 2007 her services to companies, organizations, teams, and individuals, consulting and supporting them on conflict prevention, management and resolution, decision making, agreement negotiation, and skills development, helping them communicate authentically, grow their organizations, expand to their highest possibilities, create the change they want in their personal and professional lives and have the impact they desire on the world. Location: Corfu, Greece. 🇬🇷
Florian Brody, PCC
Mentor Coach, Tutor
Florian is a certified life and leadership coach and business mentor with over 35 years of international experience. Originally from Vienna, he lived and worked in Silicon Valley for over 20 years and has an extensive track record in digital media, communications, and strategy. He co-founded four companies. Brody is a digital media pioneer and developed digital media strategies for start-ups and Fortune500 companies. He has been teaching at design and business colleges since the mid 1980s and is an adjunct professor at two universities in Europe. His work is published in multiple languages and he is a frequent keynote speaker at international conferences. Location: California, United States 🇺🇸🇦🇹
Liz Hall
Mindfulness Trainer
Liz is Editor & Co-owner of Coaching at Work magazine (www.coaching-at-work.com); author of Coach Your Team (Penguin, 2019); author of Mindful Coaching (Kogan Page, 2013), author/editor of Coaching in Times of Crisis & Transformation (Kogan Page, 2015), and chapter contributor to books including Professional Coaching (Springer, 2018); Mindfulness in Organisations (Cambridge University Press, 2015), and Mastery in Coaching (Association for Coaching/Kogan Page, 2014). Her books are translated in Spanish, Arabic, Korean and Chinese. Location: Spain / UK 🇪🇸🇬🇧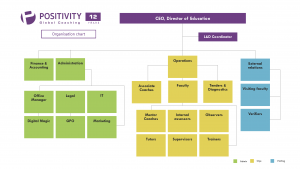 Positivity Coaching is a coaching, mentoring & training company based in Athens, Greece, that:
Focuses on results as signposts for delivering excellence in a catalytic approach for gradual and sustainable change for individuals and organizations.
Commits to invest in the development process with all available resources and in full faith that whatever the goal, it is within reach.
Positivity Coaching perceives individual and group activities as focal institutional triggers that can accelerate the dialectic of our coordinates of a value system that holds change as a both a life-giving power and a factor maintaining systemic equilibrium.
Under this perspective, Positivity Coaching is warmly and gladly offering its pro bono services to non-profit organizations.
Positivity Coaching three pillar vision summarizes as retrieving the possibility to:
Invite thought to step forward from the world of becoming into that of being.
Act like a zeitgeber between elusive truth and lucid thinking.
Provide the vehicle for a resonant, radiant and apterous fulfillment.
Members of our international faculty are living in various member states of the European Union, Canada and the United States of America e.g. California, Oregon, Kansas, Alberta, British Columbia, UK, Spain, Italy & Greece.
Our headquarters address is: Positivity Coaching, Korai 12, 153 41 Agia Paraskevi/Athens, Greece.
Tax register vat EL800409182. Call us at (+30) 210 6515376. Working hours: Monday to Friday 8am to 4pm GMT. Email us at: ask@positivityglobal.org
Why chose to be a coaching education provider
There are three reasons for the above:
To raise the standards in professional coaching
To build and expand a learning community that will break down barriers, smash stereotypes and forward and enhance the way we are learning and also the pace we are becoming who we want to be. After all, it was Eduardo Galleano who said, "We are what we do in order to change who we are". For us, even more important than what we do is how we do it.
To explore new horizons for human beings in this world and time.

Learning philosophy
There are many methods with which trainees become engaged.
All of these allow them to receive knowledge but with different retention rates.
In Positivity Coaching we use all the different learning methods, and we emphasise in the participatory ones.
After all, what's better than teaching coaching in a coaching way?
Once enrolled into the programme you will get access to:
Digital platform
On demand Video lectures
Coaching Models on demand video demos
Classroom Q&A sessions
Group Mentor Coaching
Group Supervision
Group Tutoring
This is not where the learning stops.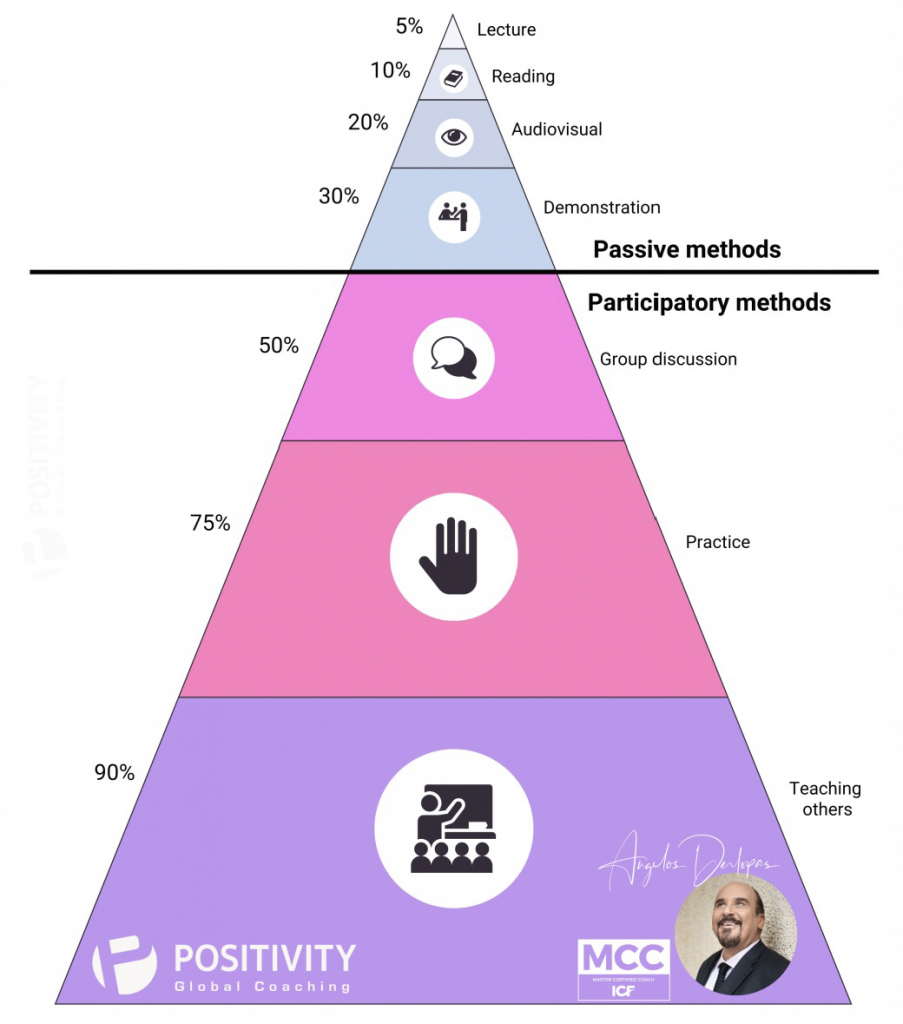 Asynchronous learning also provides ways to become participative in one's role as a learner. That's why we have carefully designed our assignments which encompass a wide variety of roles and methods. For example, we include:
Book reviews
Video presentation in front of live audience, including a Q&A session
Reflective journal
Diploma essay (choice of three)
Practice with external clients
Practice in peer coaching
Practice in learning triads
International conferences we have presented include:
World Coaching Congress Mumbai India 2013,
EMCC Mentoring & Coaching Conference Istanbul Turkey 2015,
International Cognitive Behavioral Coaching Conference Athens Greece 2016,
Gestalt International Study Center Conference Mati Greece 2016,
World HRD Congress Mumbai India 2017,
EMCC Research Conference London UK 2017.