Do you want to be a Team Coach?
The "Diploma in Team Coaching" is ideal for coaches who want to learn how to coach a team.

Designated path for your ICF ACTC credential (Advanced Certification in Team Coaching).

Accredited by the International Coaching Federation as an AATC (Advanced Accreditation in Team Coaching) program. 🌟 As one of the longest-running ICF-accredited Team Coaching programs globally (8 years and counting), we're proud to be recognized by the industry-leading ICF.

This accreditation not only reflects our commitment to providing top-quality coaching education but also simplifies the journey for individual coach practitioners pursuing their ICF Advanced Certification in Team Coaching (ACTC). 🎓

Trust in our standards and join the growing community of coaches who are prepared for the complexities of team coaching. 🤝

 

All-inclusive pack of synchronous and asynchronous learning, theory, models, observed practice with feedback, and team coaching supervision.

Accelerated Learning and High Standards by introducing Multiple Focal Points, Cross-Pollination, and a Groundbreaking combo of Learning Modalities.

Supervision with role-play live action and techniques of mentor coaching for team coaches.

Proven fit-to-learn format: The groundbreaking design of our programme is ideal for busy people. It's based on a proven system that combines on-demand videos with rolling self-paced learning, live online video group and one-on-one calls, and fully online and experiential assignments backed with the support of ongoing coaching supervision.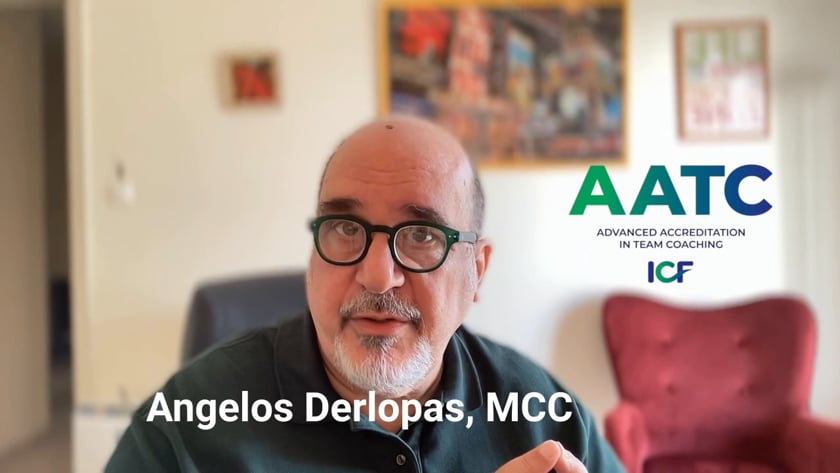 BY THE END OF THE PROGRAM, PARTICIPANTS WILL BE ABLE TO:
       Gain a clear understanding of the theory and methodology of Team Coaching.

       Develop specific Team coaching competencies.

       Effectively provide a reflective space for clients about their practices.

       Enhance your confidence, authority, presence, and resilience when working with teams at all levels.

       Offer opportunities to explore personal challenges in working with specific team members.

       Apply your learning to your own client – with support from faculty and a group supervision setting.

       Support teams to grow and become self-aware entities that change the way they relate and communicate in order to create a container that lets their authentic presence surface and flourish.
Accreditation
The program is accredited through the International Coaching Federation (ICF) as Advanced Accreditation in Team Coaching (AATC)  for 62 hours.
This satisfies ICF training requirements for an ACTC credential
Learning methods
In education and training, we actively prioritize accelerated learning and high standards as they play a significant role. Furthermore, we enhance these elements through the incorporation of multiple focal points, cross-pollination, and a groundbreaking blend of learning modalities.
Speaking of multiple focal points, we leverage a variety of learning resources and methods to stimulate learners and boost their understanding of the subject matter. These may encompass visual aids, hands-on activities, group discussions, and online resources. In using multiple focal points, we help learners cultivate a comprehensive understanding of the subject matter, enabling them to apply their learnings across diverse contexts.
Moreover, cross-pollination is a concept we apply; it signifies converging ideas and strategies from various fields or disciplines to generate new insights and solutions. In a learning context, this means exposing learners to a variety of perspectives and methodologies, fostering their capacity to think critically and creatively about the subject matter. Through cross-pollination of ideas and methods, we assist learners in developing a more nuanced understanding of the subject, opening avenues for innovative applications of their learnings.
Transitioning to the topic of a groundbreaking combination of learning modalities, we strive to utilize a diverse range of learning methods and techniques to construct a dynamic and engaging learning experience. This approach might involve merging traditional classroom instruction with online learning, or employing interactive simulations and games to reinforce learning objectives. By utilizing such a groundbreaking combination of learning modalities, we maintain learner engagement and motivation throughout the process, facilitating a deeper, more enduring comprehension of the subject matter.
Lastly, we provide ongoing coaching supervision to offer learners continuous support and guidance from experienced coaches. These coaches can help learners stay on track, navigate any challenges that arise, and ultimately achieve their learning goals.
In conclusion, when these components come together, they create a fit-to-learn format that's accessible, flexible, and effective for busy individuals looking to develop their skills and knowledge. Regardless of whether learners aim to advance in their careers, pursue new opportunities, or simply deepen their understanding of a particular subject, our programme is tailored to facilitate their success.
Our 

faculty extraordinaire:
Choose to be the reason you make a difference.