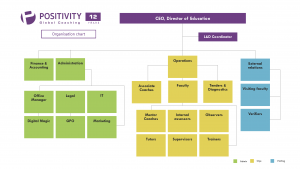 Positivity Coaching is a coaching, mentoring & training company based in Athens, Greece, that:
Focuses on results as signposts for delivering excellence in a catalytic approach for gradual and sustainable change for individuals and organizations.
Commits to invest in the development process with all available resources and in full faith that whatever the goal, it is within reach.
Positivity Coaching perceives individual and group activities as focal institutional triggers that can accelerate the dialectic of our coordinates of a value system that holds change as a both a life-giving power and a factor maintaining systemic equilibrium.
Under this perspective, Positivity Coaching is warmly and gladly offering its pro bono services to non-profit organizations.
Positivity Coaching three pillar vision summarizes as retrieving the possibility to:
Invite thought to step forward from the world of becoming into that of being.
Act like a zeitgeber between elusive truth and lucid thinking.
Provide the vehicle for a resonant, radiant and apterous fulfillment.
🇬🇷🇬🇧🇮🇹🇺🇸🇨🇦🇦🇹🇮🇳🇭🇰🇪🇸
Members of our international faculty are living in various member states of the European Union, Canada and the United States of America e.g. California, Oregon, Kansas, Alberta, British Columbia, UK, Spain, Italy & Greece.
Our headquarters address is: Positivity Coaching, Korai 12, 153 41 Agia Paraskevi/Athens, Greece.
Tax register vat EL800409182. Call us at (+30) 210 6515376. Working hours: Monday to Friday 8am to 4pm GMT. Email us at: ask@positivityglobal.org