The ICF Credentialing Exam
The ICF Credentialing Exam is a tool designed to measure a coach's knowledge of and ability to apply the ICF definition of coaching, the updated ICF Core Competencies, and the ICF Code of Ethics against a predetermined standard. The exam is informed by coach practitioners from around the world who served as subject matter expert volunteers in its development and in the establishment of the exam scoring standard.
ICF Credentials and Standards has partnered with Pearson VUE to deliver the new ICF Credentialing Exam. Through its global network of testing centers and OnVUE (Pearson's online service), candidates may either complete the exam at an on-site Pearson VUE testing center or in their home or office while being monitored by an online proctor. All candidates for an ICF Credential must complete the ICF Credentialing Exam as part of the Credential process.
Before exam day:
Test your system:
Use the same testing space, computer, and internet connection you plan to use on exam day
We recommend testing on a personal computer with a webcam. Work computers generally have more restrictions that may prevent successful delivery
Do not take your exam in a setting with a corporate firewall (including VPN). If you are taking your online exam in your office, please alert your Network Administrator to the OnVUE system requirements
Make sure you have a reliable, fast internet connection to download your exam and support a webcam stream
Acquire an acceptable form of ID:
One (1) valid, unexpired, government-issued ID with a signature and photo. The name must match the name on the registration exactly.
Acceptable forms of ID include:
Passport
Driver's license
Non-US Military ID (including spouse and dependents)
Identification card (national or local)
Registration card (green card, permanent residence, visa)
Unacceptable forms of ID:
Unacceptable forms of identification include renewal forms with expired IDs, government-issued name change documents with government ID
If your identification is not considered valid, you will not be permitted to complete your exam and you are unlikely to receive a refund
By law, certain IDs must not be photocopied, digitized, or captured on camera. Because of this, Pearson VUE cannot accept restricted IDs (including but not limited to U.S. military or certain secure access IDs) as identification for online testing.
Prepare your testing space:
Find a quiet, disruption-free, well-lit space. Please be aware that background light or the sun rising/setting could create visibility issues for the proctor
You will be required to take four photos of your testing space during check-in. We recommend using a mobile device
You can only use one monitor
Your desk should be clear
For more information, review online proctored exam policies, procedures, and minimum requirements
On exam day:
We recommend logging into your account 30 minutes early to start the check-in process and to allow for any troubleshooting
This allows optimal preparedness but does not guarantee an early admittance or start time
If you are more than 15 minutes late after your scheduled exam time, you will be unable to begin your exam and you are unlikely to receive a refund
To check into your exam:
Select Check-in to start exam on your confirmation, reschedule or reminder emails
View your upcoming appointment
Follow the on-screen prompts to complete the check-in process
You will need to complete check-in before you can start your exam
Exam rules during testing:
You may not access unauthorized materials, I.e. mobile devices, watches, and anything not allowed by test sponsor
No one else should appear through the webcam during the exam and no one else's voice should be heard
No speaking aloud during exam
Learning Methods
There are many methods with which trainees become engaged.
All of these allow them to receive knowledge but with different retention rates.
In Positivity Coaching we use all the different learning methods and we emphasise in the participatory ones.
After all, what's better than teaching coaching with the coaching way?
Once enrolled into the programme you will get access to:
Digital platform
On demand Video lectures
Online Training manual
Coaching Models on demand video demos
Classroom Q&A
Group Mentor Coaching
Privé Mentor Coaching
Group Supervision
Group Tutoring
Credentialed XP; receive coaching by ICF credentialed coaches.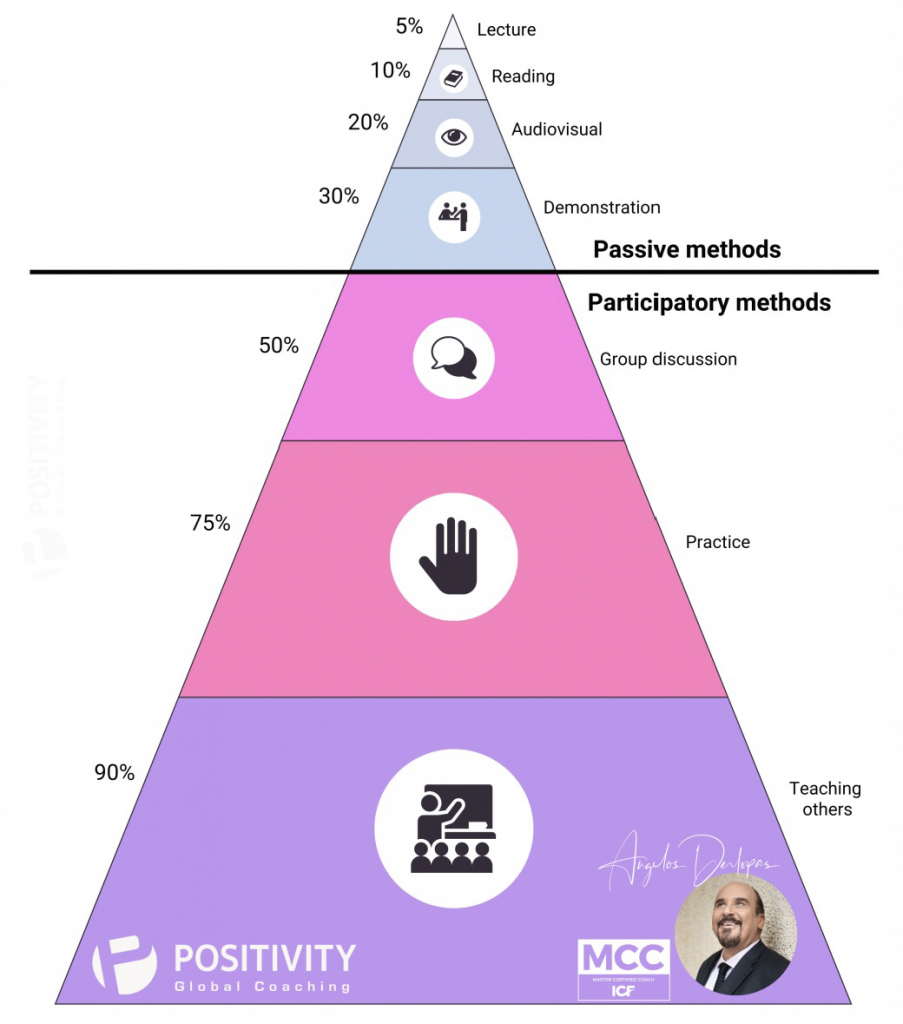 Do you want to receive your PCC credential without submitting your coaching sessions to ICF?
If you are an ACC coach, or have a 60-hour ACSTH training certificate, we'll accept it towards your LEVEL 2 certificate in our "Advanced Diploma in Professional Coaching Mastery".
Send us an email at ask@positivityglobal.org