Learning philosophy
There are many methods with which trainees become engaged.
All of these allow them to receive knowledge but with different retention rates.
In Positivity Coaching we use all the different learning methods, and we emphasise in the participatory ones.
After all, what's better than teaching coaching in a coaching way?
Once enrolled into the programme you will get access to:
Digital platform
On demand Video lectures
Coaching Models on demand video demos
Classroom Q&A sessions
Group Mentor Coaching
Group Supervision
Group Tutoring
This is not where the learning stops.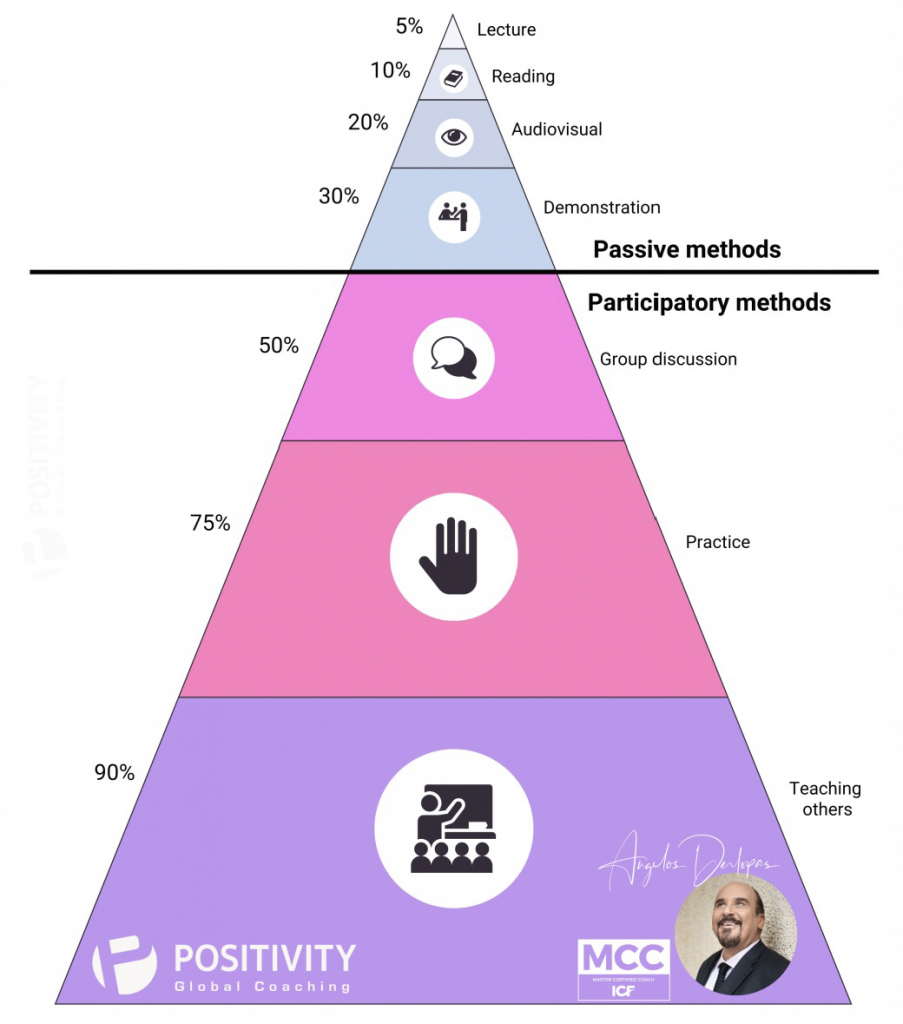 Asynchronous learning also provides ways to become participative in one's role as a learner. That's why we have carefully designed our assignments which encompass a wide variety of roles and methods. For example, we include:
Book reviews
Video presentation in front of live audience, including a Q&A session
Reflective journal
Diploma essay (choice of three)
Practice with external clients
Practice in peer coaching
Practice in learning triads
Why chose to be a coaching education provider
There are three reasons for the above:
To raise the standards in professional coaching
To build and expand a learning community that will break down barriers, smash stereotypes and forward and enhance the way we are learning and also the pace we are becoming who we want to be. After all, it was Eduardo Galleano who said, "We are what we do in order to change who we are". For us, even more important than what we do is how we do it.
To explore new horizons for human beings in this world and time.
International conferences we have presented include:
World Coaching Congress Mumbai India 2013,
EMCC Mentoring & Coaching Conference Istanbul Turkey 2015,
International Cognitive Behavioral Coaching Conference Athens Greece 2016,
Gestalt International Study Center Conference Mati Greece 2016,
World HRD Congress Mumbai India 2017,
EMCC Research Conference London UK 2017.